Restore and replace missing teeth with a crown and bridge treatment.
Tooth loss can affect your oral health and your ability to eat or chew in the long-term. Missing teeth could also cause your remaining teeth to shift and become crooked possibly even affecting your jawbone and facial structure.
Crowns or Fixed Prosthesis
A dental crown is a restorative treatment in dentistry, used to treat teeth that have been damaged, broken, cracked or decayed. It is a covering that surrounds a tooth completely. It can be made from various materials such as pure porcelain that is fused to a metal substructure. Crowns are used to support a tooth that has been filled a lot, or that is too weak to hold a filling and is prone to breaking.
Types of crowns
Alloy Crowns
Two major types of alloys are now available:
High Noble Metal – this is made mostly of gold but can also be made of palladium, silver and occasionally platinum, zinc or copper.
Base Metal – these are made of mostly nickel, or sometimes chrome, cobalt and other base metals.
Porcelain Only Crowns
These crowns are made purely of porcelain and are also being used more often to improve the appearance of the teeth.
The procedure
The duration for crown treatment is usually a minimum of one hour on the dental chair, depending on the difficulty of the situation. The tooth is prepared and then a mould of the tooth is taken and sent to a dental laboratory to construct the crown. Since this takes about two weeks to prepare, a temporary crown that is made of plastic is fitted onto the tooth. This will allow the tooth to function normally until the permanent crowns are ready.
When the new crown is ready, it takes approximately 30 minutes to fit and cement it in.
How long do crowns last?
A crown should last for approximately ten years, depending on how healthy the supporting teeth are. Regular dental check-ups should be maintained to detect and correct any problems associated with the crown at an early stage.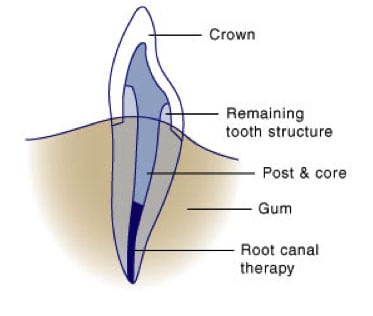 Bridges and the procedure
Bridges can be used to replace teeth that are missing only if there are teeth present on either side of the missing tooth.
While the patient is in the dental chair, the tooth is prepared for a bridge in approximately 90 minutes. After the teeth are prepared for the bridge, an impression (mould) and then sent to a dental technician. The dental technician should take around two weeks to prepare the bridge.
Once it is ready, the dentist will then check the bridge and cement it in. This process should take about 30 minutes to complete depending on the severity of the condition. Dental bridges, similar to the duration of crowns, can last approximately ten to fifteen years, provided that the patient attends regular check-ups and maintains good oral hygiene.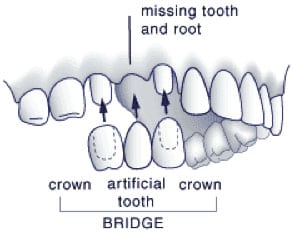 Advantages of a dental bridge
Bridges are comfortable and permanently bonded into place, allowing you to eat and speak normally. It will not irritate the gums like dentures can and is very easy to maintain and clean.
One Crown Visit (OVC)
Our one crown visit is one of the most innovative and efficient procedures yet. OVC allows us to restore your worn, broken or destroyed teeth in one visit. Your new dental crown will look exactly like your own teeth with added protection to a week tooth. OVC differs from traditional crown restorations. Moulds or temporary crowns are not needed – your treatment at Main Street Dental will take place in one single visit!
Before and After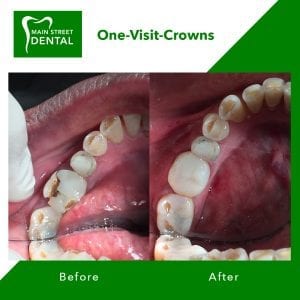 Crowns and Bridges | Bacchus Marsh
If you would like some more information on crowns and bridges our team are here to help. Contact us today!
Don't forget to share this via Twitter, Google+, Pinterest and LinkedIn.