Fast, Comprehensive Treatment in Months…not years!
Offered exclusively at our Bacchus Marsh practice, Fastbraces® Technology is different by design and allows treatment to be reduced considerably when compared to traditional metal braces. What used to take years to complete is now being reduced to months depending on the severity of the teeth.
When teeth are not aligned or in the correct position, Fastbraces® Technology can be used to gently move the teeth towards their correct position in a period of 3 months to about a year. It is made of triangular brackets with an elastic square shaped wire. This wire is mounted onto the teeth and work together with the brackets to straighten the teeth with the least amount of pain.
How long do I have to wear the retainers?
When treatment is complete, the patient will be required to wear retainers every night for at least 8-hours. After a year the retainer will only be required for a few minutes day.
What are the benefits of Fastbraces® Technology?
Fastbraces® Technology takes around 3 to 12 months to complete.
Fastbraces® Technology is an affordable, comfortable and safe orthodontic treatment that could be recommended to straighten teeth.
The use of a retainer is minimal.
Sometimes no extractions are required to begin Fastbraces® Technology.
The chances of getting tooth decay are reduced due to the short duration of the Fastbraces® Technology.
Fastbraces® Technology can be fitted in clear, ceramic brackets with a tooth coloured wire.
Before and After Photos
This patient was told by 2 dentists that they would need surgery to achieve straight teeth. However, no surgery was required and Fastbraces® worked a treat.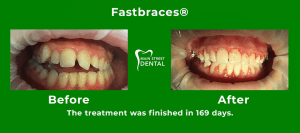 This patient underwent Fastbraces® treatment to improve their smile. This treatment was finished in 203 days.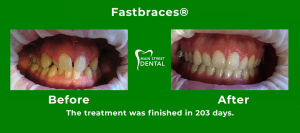 Fastbraces® Technology | Bacchus Marsh
If you are considering Fastbraces® for yourself or your child, come in for a FREE CONSULTATION* at Main Street Dental. To enquire, click here.
*X-rays and imaging not included
Don't forget to share this via Twitter, Google+, Pinterest and LinkedIn.